WELCOME!!!
Welcome to the Mission Road Church of Seventh-day Adventists website. Although our church is historically a "Japanese" church (previously known as the Loma Linda Japanese Church), we are an international group open to all people. We have services in both English and Japanese. We invite you to come and join us in our praise of our Lord and Savior. And may your visit with us be a foretaste of what the Family of God in heaven will be like!
Sabbath School is from 10 am; Worship from 11 am.

Mission Road Church
It's been over two years now since we purchased the church at 27240 Alabama Street, Redlands, CA 92373. We continually praise God who miraculously provided a way for us to buy the property that was already in escrow. And we are grateful to the Christian developers who backed out of escrow so that we could purchase the church property.
We are now in Phase I of plans to renovate our facility. Phase I will include a sidewalk and landscaping on Alabama Street, much needed parking lots, connecting to the city sewer system, a fellowship hall extension and new restrooms. We have already reroof the buildings and put on new paint to the exterior. If you would like to join us in beautifying our church, please send a donation to the above address.
Photos of our Grand Opening Celebration. MAP to our New Church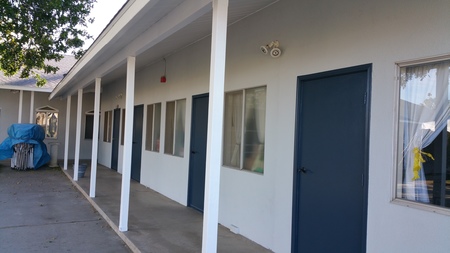 Click to Donate to our Building Project
♦♦♦
One-day Camp Meeting at LLU Drayson Center, March 19
On Sabbath, March 19, the Japanese churches in Southern California met at LLU Drayson Center for a one-day camp meeting. Dr. Zane Yi, Assistant Profession in the School of Religion, inspired our English speakers with his sermon: "Reading the Bible Like Jesus." In the afternoon he challenged our members with various Issues in Adventism. On our Japanese-speaking side, we heard for the first time, Pastor Ataru Nakagawa who is the pastor of the Toronto Japanese Church. We enjoyed bento box lunches from Nijiya. The day was a blessing to all. But it went by far too quickly!

Pine Springs Ranch Retreat, April 29 - May 1
Each year our church spends time at one of the local Adventist summer camps for a church retreat. This year, we went to Pine Springs Ranch, which had been closed a couple years ago because of a fire. Terry Swensen was our fun and inspiring speaker for the English group. Pastor Yasunari Urashima, director of ADRA Japan, spoke in a dialogue style to our Japanese members. Here are pictures of the retreat. More pics!


Welcome to the Family: Cheryl, Sarah, Ben, Isaac!
One of the greatest joys for a church family is to see it grow through baptism of our young people. This summer several young people have been baptized. Cheryl Wang was baptized at the Consecration service for her graduation at Loma Linda University Church, Friday, June 3. On June 11, two young adults, Ben Martinez and Isaac Garcia, were baptized at our church at an outdoor service. And then Sarah Pan was baptized at Dana Point on June 25. We congratulate each one and say, "Welcome to the Family!"

International Food and Craft Fair, Nov. 6
Last year, we held our 1st annual International Food and Craft Fair. It was such a success as International foods from our congregation took the spotlight. Members proudly shared food from Africa, Australia, Columbia, and of course, many Asian countries (Malaysia, Indonesia, Thailand, Japan, Singapore, Vietnam, Okinawa, Hawaii, etc.). We were able to enjoy so many scrumptious desserts as well as purchase many lovely crafts.
This year, our 2nd annual International Food and Craft Fair will be held on Sunday, November 6. We are looking forward to all the delicious foods. And this year, we hope to highlight the various cultures in our congregation with a fashion show! So, circle that date on our calendars and come out for a fun & delicious day!

Photos of Miscellaneous Events in 2015
Lunar New Year Festival - Feb. 28
Japanese Matsuri (Festival), March 22
Ministry Fair, March 28
Baptism for Kenneth Kim, April 4
Japanese Camp Meeting at Camp Wawona, Yosemite, April 17-19
Silverwood Lake Campout - Oct. 9-11
Budounoki Sports Day, Nov. 15
A Taste of International Foods & Crafts, Dec. 6

What's a Manapua?
If you have ever visited our church, you might hear the word "Manapua." What in the world is a manapua? Well, its the Hawaiian version (that means, BIG) of a steam bun with all types of filling: gluten charsiu, gluten BBQ, Asian vegetables, sweet beans, etc. Once a month, people can purchase these delicious buns. There is a set quota for each month so be sure to order early. All proceeds go to our church building fund.
Pictures of members making Manapua



See photos of church events on our Facebook Account