WELCOME!!!
Welcome to the Mission Road Church of Seventh-day Adventists website. Although our church is historically a "Japanese" church (previously known as the Loma Linda Japanese Church), we are an international group open to all people. We have services in both English and Japanese. We invite you to come and join us in our praise of our Lord and Savior. And may your visit with us be a foretaste of what the Family of God in heaven will be like!
Sabbath School is from 10 am; Worship from 11 am.

Mission Road Church
It's been over two years now since we purchased the church at 27240 Alabama Street, Redlands, CA 92373. We continually praise God who miraculously provided a way for us to buy the property that was already in escrow. And we are grateful to the Christian developers who backed out of escrow so that we could purchase the church property.
We are now in Phase I of plans to renovate our facility. Phase I will include a sidewalk and landscaping on Alabama Street, much needed parking lots, connecting to the city sewer system, a fellowship hall extension and new restrooms. We have already reroof the buildings and put on new paint to the exterior. If you would like to join us in beautifying our church, please send a donation to the above address.
Photos of our Grand Opening Celebration. MAP to our New Church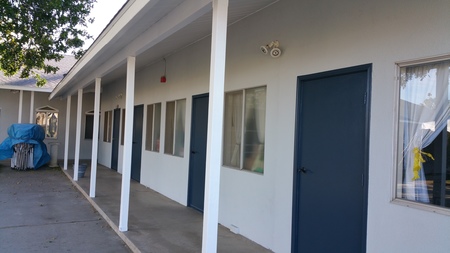 Click to Donate to our Building Project
♦♦♦
One-day Camp Meeting at LLU Drayson Center, March 19
On Sabbath, March 19, we will be joining the Japanese churches in Southern California at LLU Drayson Center. Dr. Zane Yi, Assistant Profession in the School of Religion, will be our English speaker. His sermon for worship is entitled, "Reading the Bible Like Jesus." In the afternoon he will be talking about Issues in Adventism. Sabbath School - 10 am; Worship - 11 am; Afternoon service - 2 pm. Bento box lunches are available for $15. They must be preordered - call the office at 909-335-8369.

Jim McDonald Concert, March 26
This is the second year in a row we are sponsoring Jim McDonald to do a sacred concert at our church. Jim lives half of the year in Rumania and ministers to gypsies and has even produced the first Bible in the Gypsie language. It is our privilege to hear his deep bass voice and to support him as he preaches the Gospel to the people of Rumania.

Japanese Festival, April 24
This year's Japanese Festival will be held on Sunday, April 24. We look forward to celebrating Japanese culture through Taiko drums, traditional dance and music, Mochitsuki (rice pounding ceremony), games and lots and lots of delicious food.

Photos of Miscellaneous Events in 2015
Lunar New Year Festival - Feb. 28
Japanese Matsuri (Festival), March 22
Ministry Fair, March 28
Baptism for Kenneth Kim, April 4
Japanese Camp Meeting at Camp Wawona, Yosemite, April 17-19
Silverwood Lake Campout - Oct. 9-11
Budounoki Sports Day, Nov. 15
A Taste of International Foods & Crafts, Dec. 6

What's a Manapua?
If you have ever visited our church, you might hear the word "Manapua." What in the world is a manapua? Well, its the Hawaiian version (that means, BIG) of a steam bun with all types of filling: gluten charsiu, gluten BBQ, Asian vegetables, sweet beans, etc. Once a month, people can purchase these delicious buns. There is a set quota for each month so be sure to order early. All proceeds go to our church building fund.
Pictures of members making Manapua



See photos of church events on our Facebook Account