WELCOME!!!
Welcome to the Mission Road Church of Seventh-day Adventists website. Although our church is historically a "Japanese" church (previously known as the Loma Linda Japanese Church), we are an international group open to all people. We have services in both English and Japanese. We invite you to come and join us in our praise of our Lord and Savior. And may your visit with us be a foretaste of what the Family of God in heaven will be like!
Sabbath School is from 10 am; Worship from 11 am.


Mission Road Church
It's been over three years now since we purchased the church at 27240 Alabama Street, Redlands, CA 92373. We continually praise God who miraculously provided a way for us to buy the property that was already in escrow. And we are grateful to the Christian developers who backed out of escrow so that we could purchase the church property.
We are now in Phase I of plans to renovate our facility. Phase I will include a sidewalk and landscaping on Alabama Street, much needed parking lots, connecting to the city sewer system, a fellowship hall extension and new restrooms. We have already reroof the buildings and put on new paint to the exterior. If you would like to join us in beautifying our church, please send a donation to the above address.
Photos of our Grand Opening Celebration. MAP to our New Church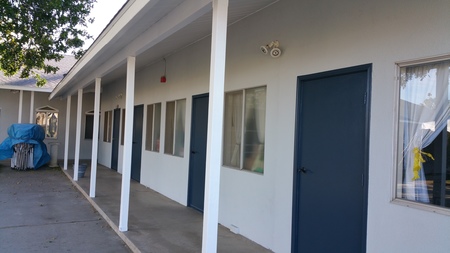 Click to Donate to our Building Project
♦♦♦

Welcome to the Family: Wendy!
One of the greatest joys for a church is to see it grow through baptism of our young people. On May 6, we had the privilege of seeing Wendy Wang give her life to Jesus Christ through baptism.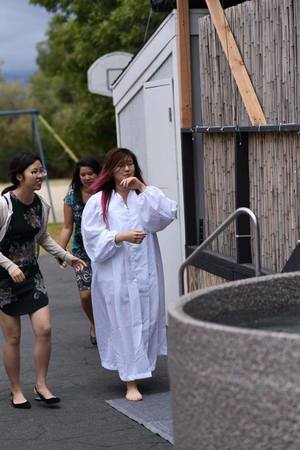 Japan Festival (Matsuri)
Due to the rain forecast and scheduling conflicts, our Japan Festival had been rescheduled several times. But finally, on May 21, we were able to hold our annual Japan Matsuri. It was a hot day, and so our snow cone booth was one of the most popular (even with two machines, the lines were long!), and our youth were kept busy selling ramune (traditional festival soda in special bottles), water and other drinks. We, of course, had lots of great food: inari sushi, yakisoba, roasted corn (Japan style - basted in butter and soy sauce!), korokke (potato croquette), mochi with sweet beans & strawberry, Gary's famous kalbi, etc. Children had fun at the game corner. And we all enjoyed the entertainment of mochi-pounding, traditional Japanese songs by our ukulele group, beautiful sanshin music, and soran bushi dance by our young adults. Amika & Junei Horzen did their impersonation of "Apple Pen" that went viral on Youtube in Japan. And TaikoMix brought energy to our Matsuri with their taiko drum performances. We thank all our members for their hard work in making (again) our Japan Matsuri a wonderful day celebrating our heritage and ties with the Japanese community. Pictures of the Matsuri.

Pine Springs Ranch Retreat, May 12-14
Each year our church spends time at one of the local Adventist summer camps for a church retreat. This year, our retreat was at Pine Springs Ranch. It was held over Mother's Day weekend so we spotlighted our retreat on mothers. During worship we focused on three mothers in the Bible: Hannah (mother of Samuel), Naomi (mother-in-law of Ruth) and Mary, the mother of Jesus. Then we laughed and cried as we listened to members sharing their own stories of their mothers and mothers-in-law. Many of the mothers there said it was the best Mothers Day because for a whole weekend they didn't have to worry about the house or cooking! Here are pictures of our retreat. Map of Pine Springs Ranch.



50th Anniversary Celebration, October 14
In October 1967, Dr. Shirou Kunihira started a Japanese-language Sabbath School class for students from Japan. That group grew into the Loma Linda Japanese Church. Later on English services were added and that small group became the Mission Road SDA Church. We will be celebrating the 50 anniversary of the start of this congregation by Dr. Kunihira on Oct. 14. Details of our celebration to come soon!



International Food and Craft Fair, October 22
Oct. 22 will be our 3rd annual International Food and Craft Fair. In the past, members proudly shared food from Africa, Australia, Columbia, and of course, many Asian countries (Malaysia, Indonesia, Thailand, Japan, Singapore, Vietnam, Okinawa, Hawaii, etc.). We were able to enjoy so many scrumptious desserts as well as purchase many lovely crafts. This year, we are looking forward to another day of delicious foods, culture and fun. Pictures of 2015 International Food Fair.


Aloha Sabbath, April 22
Church was packed as families and friends from Hawaii gathered for an Aloha Sabbath. The service was filled with Island music as Lani Ohana Ukulele group led by Donna Wycliffe and Michael Lanauai let the congregation in the praise singing. The highlight was the hulas performed by the ladies and young girls of the Halau o Kapunawai'olu (directed by Donna DeLeon). Pastor Dean's sermon, "Trouble in Paradise" reminded us that our earthly paradises, although beautiful, have many flaws, and we need to fix our eyes our God's eternal paradise in heaven. Pictures of Aloha Sabbath.



Valentine's Day Banquet, February 11
Our young adults and youth organized a Valentines Day Banquet! Pics!



Youth Rush Japan
Daniel Fukuda is in Japan training their young people how to reach out into their communities in sharing Jesus Christ. Training sessions have taken place in Tokyo, Shizuoka and Okinawa. On Oct. 1 our church lend financial support by holding a Youth Rush Japan benefit concert. Here is an article in the Adventist News Network about their experiences in Japan.

G.L.O.W. Christmas Cookie Event
On Dec. 16, 2016 members got together for a special G.L.O.W. event. Members were asked to make or purchase cookies to distribute Christmas cookies to our neighbors. The response was overwhelming to say the least. Over 4000 cookies were brought to the church during the week! On Friday evening, we packed the cookies in a decorative Christmas wrapping. Then on Saturday afternoon, we shared the cookies with our neighbors. Pics of G.L.O.W. Christmas Cookies.

What's a Manapua?
If you have ever visited our church, you might hear the word "Manapua." What in the world is a manapua? Well, its the Hawaiian version (that means, BIG) of a steam bun with all types of filling: gluten charsiu, gluten BBQ, Asian vegetables, sweet beans, etc. Once a month, people can purchase these delicious buns. There is a set quota for each month so be sure to order early. All proceeds go to our church building fund.
Pictures of members making Manapua

See photos of misc church events on our Facebook Account